Coursera Partnership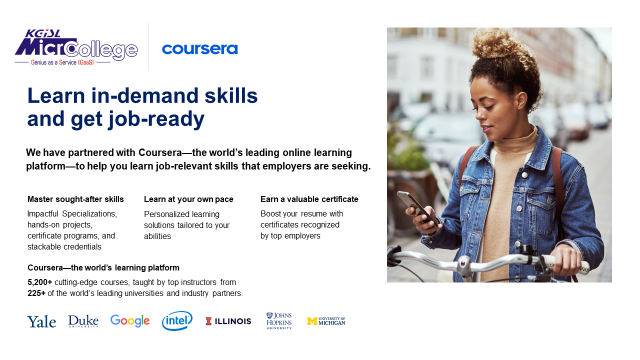 Coursera offers more than 5,200 cutting-edge courses, 3,300+ guided projects, 650+ specializations, and 115+ certificates, all taught by top instructors from over 275 leading universities and companies like Yale, University of Michigan, Google and IBM. The partnership empowers the participants with access to these high-quality courses to learn online on Coursera in addition to our on-campus curricula. With Coursera for Campus, KGiSL Educational Institutions will:
Integrate a variety of job-relevant credentials on Coursera with skills-based training and hands-on learning at the campus to build a competitive and resilient workforce.
Receive powerful analytics tools to enable faculty members to track learners' progress on skills acquisition across all member institutions.
Curate content and learning pathways to ensure that students are introduced to courses optimized for their career requirements.
Through our collaboration with Coursera, we are helping students improve their career readiness by mastering in-demand business and technology skills at unprecedented speed and scale, enabling them to drive innovation and thrive in the workforce.
At KGiSL Educational Institutions, the commitment to our students is to make the educational experience relevant to their careers, ensuring that each one of them is equipped with job-ready skills when they graduate. We value lifelong learning and this partnership with Coursera opens the door to high-quality professional development opportunities for the students and faculty members across our four member institutions.