26-Sep-2021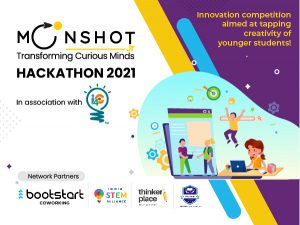 KGiSL Educational Institutions, in partnership with i4C, are pleased to introduce our special featured Hackathon aimed at innovation and entrepreneurship in school-going children. We bring you The Moonshot Jr School Hackathon, aimed at Transforming Curious Minds.
i4C is the team that consistently brings out the most innovative educational platforms, namely Smart India Hackathon, the world's largest Hackathon & Smart School Hackathon, India's Unique School Hackathon aimed at innovation in school children.
This program encourages entrepreneurship, innovative mindset, and out-of-the-box thinking among young minds. The problem statements will be based on real-life issues faced in day-to-day life. This makes the hackathon real and not simulated.
Winners will get very attractive prizes.
LEARN MORE ABOUT THE HACKATHON AND HOW TO PARTICIPATE
About i4C
i4C aims to create and foster a culture of innovative thinking. i4C conducts idea and innovation competitions to bring high-potential ideas that can be developed into products for the advancement of society. To know more about i4C Visit: https://i4c.in/
To know more about the hackathon and past events visit: https://i4c.in/site/schoolHackathon
About Moonshot Jr
Moonshot Junior Inc. is an ed-tech company that is imparting tech entrepreneurship to children between 10-17. With a focus on STEAM and future-oriented streams, Moonshot Jr aims at empowering young innovators with knowledge and means to excel in their chosen area of interest by nurturing their interests and skills. Moonshot Jr focuses on giving its students future-ready skills like AI, Robotics, App Development, Game Development, Home Automation, etc.