29-Jan-2023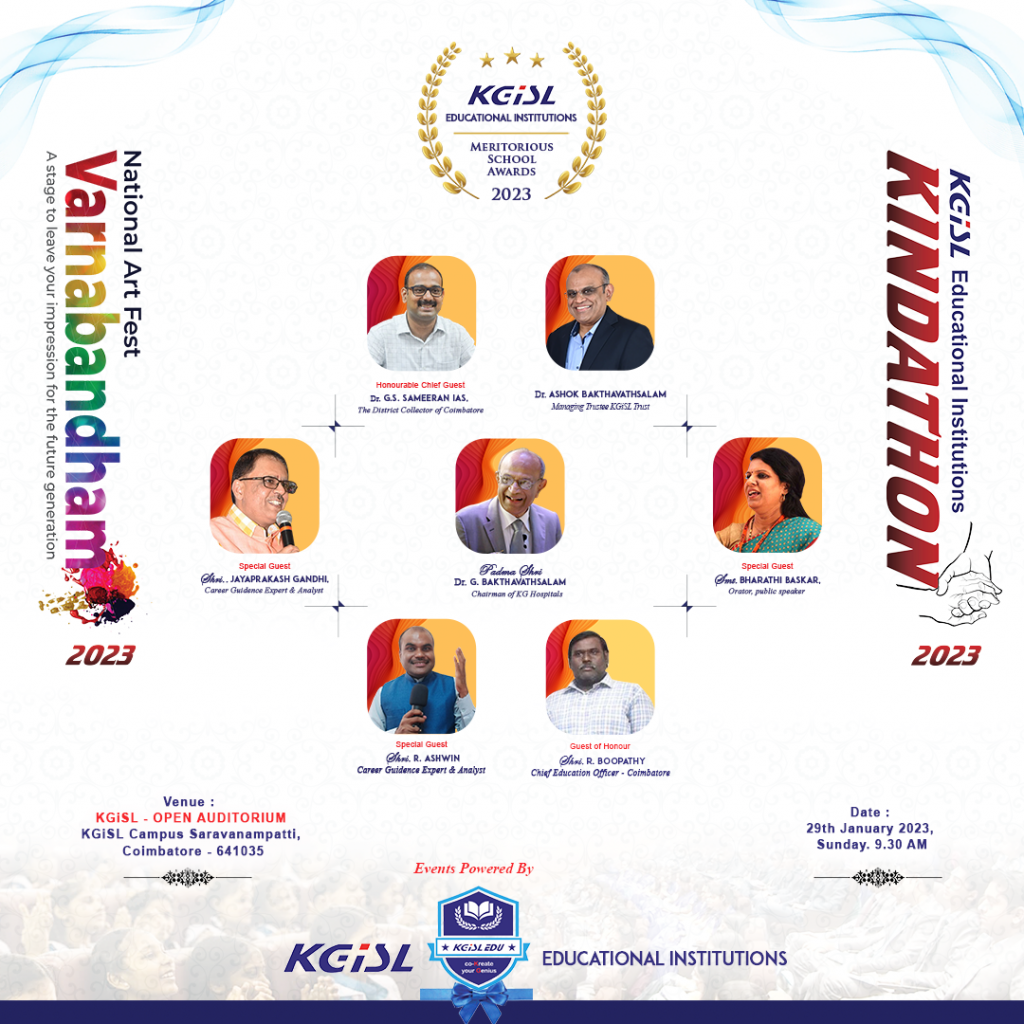 KGiSL EDU marks the end of the 1st month of 2023 with a hat-trick of vibrant events
Kindathon | KGiSL Meritorious Awards | Varnabandham
KGiSL Educational Institutions witnesses the confluence of three enthralling events on Sunday, 29th January. The reputed group of institutions will be hosting 'Kindathon', a student-led initiative to create, innovate and celebrate the joy of giving to over 1000 beneficiaries from 11 elderly homes and orphanages, 'Meritorious School Awards', an annual event in which over 1200 outstanding scholastic performances and 500 inspiring educators from schools across Tamil Nadu will be felicitated this year, and 'Varnabandham', Coimbatore's first-ever national art festival bringing together artists and art enthusiasts from across the country.
During Kindathon, over 500 students participated selflessly in 9 acts of altruism to create AI-based health monitoring devices for the elderly, organic bathing soaps, and hand-made sanitary napkins from scratch, assemble learning aid kits for differently-abled students, sew new garments for rescued girls, and donate blood and hair to thalassemia and cancer patients respectively.
The district Collector of Coimbatore, Dr. G. S. Sameeran will be presenting the meritorious awards to school principals and school teachers who have retired with over 30 years of educator excellence experience. Gracing the occasion, Shri R. Boopathy, Chief Education Officer, Coimbatore, Padma Shri Dr. G. Bakthavathsalam, Chairman of KG Hospitals, Dr. Ashok Bakthavathsalam, Managing Trustee of KGiSL Trust, Shri Jayaprakash Gandhi, Career Guidance Expert and Analyst, Smt. Bharathi Baskar, Orator and Public Speaker, and Shri R. Ashwin, Career Guidance Expert and Analyst will be presenting the awards to the school students and teachers.
The department of Visual Communications, KG College of Arts and Science, unveiled Varnabandham which started as a 3-day art festival for art delegates and culminated in 'Varnabandham Jr', an extension of the festival for young artists. The Collector will be presenting the Junior Artist Award with cash prizes of Rs.5000 each for the best 10 pieces of work.